Cleaned April 2016
Can't believe that this great girl does not have a thread on this website. During her short life she did some good vids and photo shoots (No HC, I'm afraid) and seemed to be well on her way to a brilliant career. Anyway, I have a few vids and pics to post so lets begin......
JASMINE GREY (Michelle Greyshaw)
Born:
Mar. 8, 1984
Medina, Ohio, USA
Died:
Dec. 10, 2005
Medina, Ohio, USA (car accident)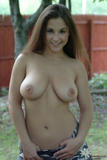 Here are some pics of Jasmine... (62 pics 5.3mb) Use unrar to extract.
Dead RS - Link Removed